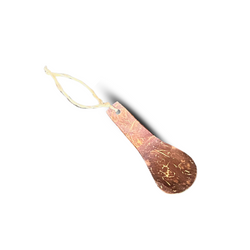 Handcrafted Body Butter Scooper
Introducing our eco-friendly, handmade Body Butter Scooper. Our Body Butter Scooper is a unique and practical addition to your bathroom essentials. 🥥


Made from the coconut husk, this scooper is designed to help you enjoy your body butter without the mess. Its shape and natural texture make it easy to grip, even when wet, allowing for precise application.


Hold the Body Butter Scooper in your hand, and use it to scoop out the desired amount of body butter from its container. Apply the body butter to your skin, spreading it evenly and massaging it in for optimal absorption. When finished, simply rinse the scooper and store it in a clean, dry place for easy access.


Please note that due to the handmade nature of this product, the shape and appearance of the scooper may vary slightly This unique aspect adds to the charm and character of the
scooper
, making it a truly distinctive addition to your bathroom.