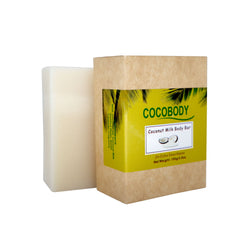 Virgin Coconut Handcrafted Soap Cocomilk 150g
Experience the soothing sensation of our Coconut Soap, thoughtfully crafted with a harmonious blend of Virgin Coconut Oil and Coconut Milk. This gentle soap works to cleanse your skin, and may leave it feeling soft and refreshed. The core ingredients, Virgin Coconut Oil and Coconut Milk, contribute to a delightful bathing experience.


How to Use: To use this soap, wet your skin, apply the soap, lather and rinse thoroughly.

Storage: Store the soap at room temperature, away from direct sunlight, and avoid letting it soak in water.
If you experience any irritation, discontinue use of the soap.