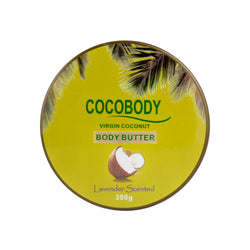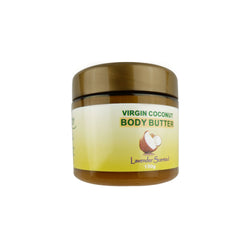 Body Butter Lavender
Experience our luxurious Lavender Body Butter, a delightful blend of Virgin Coconut Oil, Shea Butter, Beeswax, and an enchanting Lavender scent.
This formula is designed to cater to your skin, aiming to provide hydration and comfort, while leaving you with a pleasant aroma.


How to use: After showering or bathing, scoop a generous amount of the Lavender Body Butter with clean fingers or a scooper. Gently massage onto your skin, focusing on dry areas, until fully absorbed. Use daily or as needed to maintain hydration and a delightful Lavender scent.

Storage instructions: Store your Body Butter in a cool, dry place away from direct sunlight and heat to preserve its smooth texture and effectiveness. Ensure the container is tightly closed after each use to maintain the product's freshness and quality.