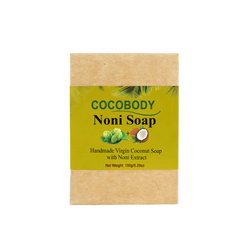 Cocobody, Noni Soap with Virgin Coconut Oil 150g
Experience the potential benefits of Noni soap infused with Virgin coconut oil! This soap is crafted with natural ingredients that may help nourish and moisturize your skin. The gentle yet effective properties of Virgin coconut oil may provide hydration, leaving your skin feeling refreshed and revitalized.
Treat your skin to the goodness of Noni and Virgin Coconut Oil for a truly indulgent bathing experience!
How to Use: To use this soap, wet your skin, apply the soap, lather and rinse thoroughly.

Storage: Store the soap at room temperature, away from direct sunlight, and avoid letting it soak in water.
If you experience any irritation, discontinue use of the soap.