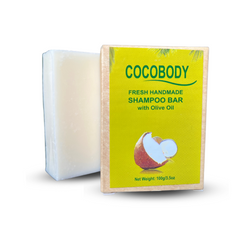 Cocobody, Shampoo Bar 100g
Discover our delightful Chamomile Shampoo Bar, a charming blend of Virgin Coconut Oil, Olive Oil, and a calming Chamomile scent.


Our Shampoo Bar is an affordable and enjoyable addition to your hair care routine, crafted with your hair's overall well-being in mind, and offering more uses compared to traditional bottled shampoo and easier to pack for travelling. 

How to use: Wet your hair thoroughly. Gently rub the Chamomile Shampoo Bar directly onto your scalp and hair, or lather it in your hands before applying. Massage into your scalp and hair, working up a rich lather. Rinse well with water and follow with your preferred conditioner if desired.

Storage instructions: Store your Shampoo Bar in a well-ventilated, dry place away from direct sunlight and heat to preserve its quality and effectiveness. Use a soap dish or a shampoo bar container with drainage to allow the bar to dry completely between uses, extending its life and maintaining freshness.