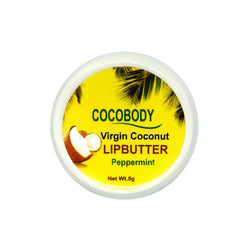 Cocobody Lip Butter Jar
Discover our delightful Lip Butter, featuring a blend of Virgin Coconut Oil and Beeswax, created to provide your lips with essential hydration and care. VCO contributes to the smooth and soft feel of lips, while Beeswax helps form a barrier that may assist in retaining moisture. 
The refreshing Peppermint scent awakens your senses with its cool, invigorating aroma, making your lip care routine feel revitalizing.


How to Use:

Clean hands before use.
Open lip jar container carefully.
Use a clean applicator or fingertip to scoop lip butter.
Apply evenly onto lips and reapply as needed.
Storage Instructions:
Close container tightly after use.
Store in a cool, dry place away from direct sunlight.
Keep away from moisture and damp areas.
Maintain cleanliness to prolong lip butter life.