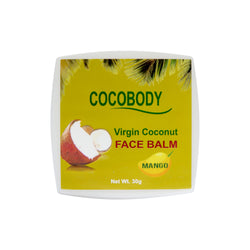 Cocobody Facebalm Mango 30g
Discover our comforting Face Balm, made with Virgin Coconut Oil and Beeswax, providing a comforting and refreshing experience for your skin.  Its smooth application helps to promote a soft and rejuvenated complexion. Its Mango Scent adds a touch of exotic charm to your daily skincare routine. Experience the benefits of this tropical balm and enjoy a fruity aroma that may uplift your mood.

How to use: Gently warm a small amount of the Face Balm between your fingertips, then apply it evenly onto your clean face and neck, massaging in upward, circular motions. Use morning and night for best results.

Storage instructions: Store your Face Balm in a cool, dry place away from direct sunlight and heat to preserve its smooth texture and effectiveness. Ensure the container is tightly closed after each use to maintain the product's freshness and quality.