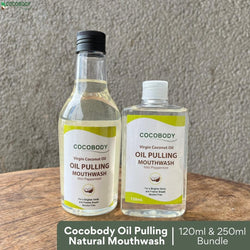 Oil Pulling Natural Mouthwash 120ml + 250ml Set
Want a cleaner mouth, fresher breath, and a brighter smile? 😄 Switch now to Cocobody Oil Pulling Natural Mouthwash and see the difference! ✨

✅ Made of Virgin Coconut Oil
✅ Peppermint flavor
✅ Does not contain Alcohol
✅ Easy on the mouth

How do I use my natural mouthwash? Oil Pulling is easy and simple to do!

1️⃣ Get a tablespoon or small cup.
2️⃣ Pour 2 tablespoons of Oil Pulling or fill up half your cup.
3️⃣ After, take the tablespoon or cup and begin swishing the oil in your mouth. This will allow the Oil to cleanse your mouth and "pull" the bacteria.
4️⃣ Swish for at least 5 to 10 minutes.
5️⃣ When you are finished, spit out the oil in the toilet.

Show your brighter smile! 😁

What is Oil Pulling? 💡

It is a traditional folk practice started in India to cleanse the mouth from food particles and food debris. Using coconut oil, the medium chain fatty acids when broken down in the mouth may have anti-microbial benefits against pathogens.