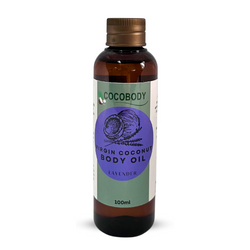 Cocobody, Virgin Coconut Body Oil Lavender 100ml
 Cocobody Virgin Coconut Body Oil contains more than 90% VCO infused with the essence of Lavender.


The Medium Chain Fatty Acids of Coconut Oil makes it a good carrier oil to allow for good skin absorption, and may help keep skin moisturized and soft.
Storage and Handling: Coconut oil solidifies below 24°C, a clear sign of its Purity due to the presence of Lauric acid. Place the container in warm water to liquefy. 
How to use: Apply small quantities covering the legs, arms even the body. Gently rub it in using circular motions until the skin fully absorbs.